Page 2 of 2 •
1, 2
First topic message reminder :
1. PB2 Profile Link: http://plazmaburst2.com/?a=&s=7&ac=wazzasski&id=1623233
2. Kills Count: 4,713
3. Kill/Death Ratio: 1.06
4. Level Developer Rank: N/A
5. Predicted Player Points Amount: 0.43
6. Total Time Playing Plazma Burst 2: One year
7. All Alternate Accounts (with profile links):
http://plazmaburst2.com/?a=&s=7&ac=_Vane_&id=1694559
http://plazmaburst2.com/?a=&s=7&ac=Absoluteownage24&id=1444724
http://plazmaburst2.com/?a=&s=7&ac=IAmNobody&id=1487872
8. List all past clans and reasons for leaving them:
USF: past problems and demotions
ARC: I don't fit in it anymore.
N.B.K: Got nuked by my girlfriend (It's too awkward to say this.) Because she grabbed my phone to threaten to nuke my clan server and I didn't care.
9. Why are you applying for YRN?
Some YrN members are still supporting me for becoming a YrN member. They want me to be in the clan. I'm not giving up either. I want to get new experiences from YrN
10. How can you benefit YRN?
I can help them and give some advices to them if they have bad moods. I want to enjoy my time with people and play Pb2 with them.
10b. How will YRN benefit you?
They will support me if I'm in a bad mood. But it is important to respect YrN members and they will be glad to help me. They will respect me back. If they give me their trust, I won't lose their trust. Trustworthy and respectful are very important to YrN clan.
11. List some good/bad experiences in your most recent clan:
Won a war against TII and I got some demotions.
11b. List some experiences you wish to have in YRN: I want to get so much better than before. I want to participate in YrN events, such as tournaments. And Getting trained by YrN members. If I get so much better, I'll stay in YrN no matter what.
12. What YRN Members do you know?
Literally everyone especially Kobe, Woo, Frank, Lyruis, Juan, Ngl, and Josh. Because they are cool and friendly.
13. In your opinion what makes YRN different and/or better from other clans?
any clans don't matter expect dead clans. But it's important that YrN needs loyal & mature players.
14. Most frequently played server and average ping:
Cali 30-50 ping
Europe: 300 ping
15. Discord Username (followed by Discord ID
#0000
):
Wazzasski#0499
15b. How active will you be on Discord, YRN forums, and PB2?
I can be active on Discord everyday. I only play Pb2 on Fridays, Saturdays, and Sundays. I always check YrN forums to see if there's any questions on my application.
16. What are your skills within PB2?
Snipers and warfare.
17. Describe what kind of person you are:
a very caring person and chill. I gotta be honest with you all guys, but sometimes I'm immature.
18. What do you value more and why: Skill or Attitude?
Attitude, because no unskilled players don't have attitude can't be good in YrN and they can disrespect. Attitude helps members get better In YrN. It's important to show good attitude to YrN members and they'll like you so you can get more good reputations
19. Country of Residence: California, USA
20. Do you understand the recruitment process?
Yes
21. Do you meet all requirements to join?
I don't get 7k kills yet
22. By submitting this application, you understand that you must comply with all rules of YRN on the chat as well as the forums. You also understand that violation of said rules could result in the removal of you from the clan. Do you agree to these terms?
Agreed, yes.
23. Extra comments: Note, I created my clan four days ago and it got nuked. At that time,I don't care. I am never giving up for YrN.
---
@3pro5u

wrote:

@Wazzasski

wrote:

@3pro5u

wrote:I have nothing but mad respect for you , your really determined to join this clan, and we could use more committed people like you however , I've noticed you been getting denied a lot cause of the test, and i've noticed you for a minute and you kinda like to get in trouble , are you gonna do anything selfish like for you to get muted in the clan?

how would you feel if we just skipped this questioning phase and got straight to your tests?  cause you were sooo close last time , and I really don't want you to miss out on us , I know 30 seems like a little to much but I think you got it bro you hit 26 before

The reason why i get in trouble, because I am hyperactive. I'll stop doing that. Well, I'd like to continue my maturity for YrN. I would feel so much better if you guys skipped the questioning phase, because I suffer from too much patience lol. But I can be very patient with it. In a fact, I have a chromebook. I don't have a PC.

so when you 1v1ed last time instead of using a chromebook you used PC?
2011 No kidding.
Slashdown

Prestige Member


Posts

:

25



Very solid app!

Let's hope you pass your tests!

Demonn

Prestige Member


Posts

:

25



Even though waz doesn't seem like the best Approved player, he's still a chill dude to have in yrn, also really active so i wish good luck :D
Woo Woo

Supreme Leader


Posts

:

91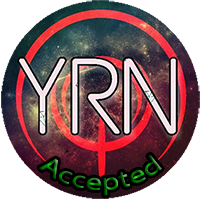 Application Accepted.
The Applicant has passed the tests 32/40.
____________________________________________________________________
"This is my last message to you: in sorrow, seek happiness."
Page 2 of 2 •
1, 2
Create an account or log in to leave a reply
You need to be a member in order to leave a reply.
Log in
Already have an account? No problem, log in here.
Log in
---
Permissions in this forum:
You
cannot
reply to topics in this forum